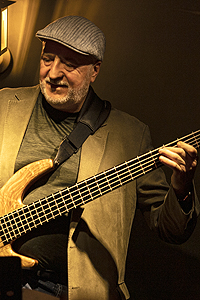 ---
---
You can now get private tuition from Paul Carmichael.
---
- how to learn songs

- improve your reading skills to pro levels

- improve your technique

- improve your time keeping

- learn how to solo (improvise) over chord changes

- All Styles, Rock, Jazz, Funk, Slap

- how to work out and transcribe the grooves

- getting a studio technique together

- playing with drummers

- get your professionalism sorted for gigs

- look at playing double bass
Do you want to know what to play in any situation? Read Music really well? Find out how to practice for an audition? Learn how to improvise around a jazz standard? Transcribe a bass line from a favourite track? Learn approaches to taking a solo? Get strong about holding down a groove? Feel confident in any situation? How to prepare for a session? What's it like to tour? Making sure your instrument is set up properly? Get a practice schedule together? Work towards getting into Music college? Get ready to do professional gigs? Get pro on Fretted, Fretless, and Acoustic bass? How to deal with your colleagues? How to record, edit, and enhance your playing on home recordings?
GET IN CONTACT!!
And come and see the live band! Get involved in our FACEBOOK