I had a musical upbringing, which was based around Classical Piano. After working my way up through the grades, I started to take an interest in Blues Rock and picked up a guitar. My father was working as a pianist in various dance bands and he took me on my first gig at the age of 14 – but as a bass player. That goes me started! As he was a fanatic trad jazz enthusiast we used to jam a bit around old jazz standards, (sometimes I would play piano and he would play clarinet) and that got me into learning chord sequences.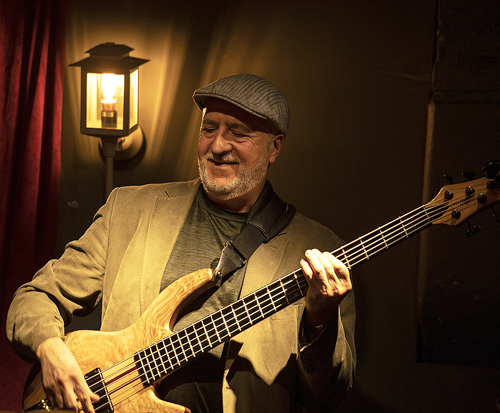 I got interested in all the UK Rock blues bands when I was a teenage since in those days there were lots of clubs where all the bands performed.
When I was about 16 I discovered Miles Davis (Bitches Brew) and Chick Corea, which later, lead me to start hanging out at Ronnie Scotts Jazz club in London. Really that changed everything.
My obsession with playing bass and improvising made me go professional around the age of 21. I played in bars and clubs around town at night, and by day practiced and rehearsed. This was in the late 70s. Soon after that I met Ian Carr (trumpeter and composer,) who ran the classic British Jazz Rock band Nucleus. This led to several tours of Germany, Switzerland, and Italy.
Through that I met Gary Husband, (drummer with Level 42, John McLaughlin) and Allan Holdsworth. Allan was trying to create a solo project and so we started a band that also included Paul Williams on vocal. This became the IOU band. It resulted in Allan's first solo Album "IOU" and we debuted it in Los Angeles in the early 80s.
I returned to London to continue touring with Barbara Thomson's Paraphernalia and Jon Hiseman (Colosseum). I made some recordings were with Dominic Miller (now with Sting). And John Themis solo albums (now a successful writer/producer).
During the 80s I moved over to the scene in London and did lots of sessions (Radio Idents, Adverts, TV theme Tunes) and I was fortunate enough to get a TV show called "Playaway" which ran for several years. In addition I worked with lots of Artists such as Lulu, Manu Dubango, Soft Machine, Charles Aznavour, doing Videos and shows.
The London West end show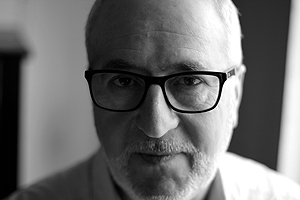 scene was busy and I did all the big ones Les Miserables, Joseph and the Technicolour Dreamcoat, Cats, aswell as lots of smaller shows such as Which Which, Just So, and my favourite Moby Dick, produced by Cameron Macintosh.
In the Mid 80s I also did 2 Albums With Steve Topping and Gary Husband – "What It Is" (an improvised collective) and Steve First Solo Album Time and Distance
My writing was beginning to develop in 2 directions – vocal songs, and instrumental. The latter proved more interesting to me because I could form a band to play the material, and we could get gigs. As we got into the 90s I developed a band called Flight To La and we did a mini tour of the UK. AS it proved to be quite costly, I decided to concentrate of writing, and also started to study and teach Design software, which became an interest of mine
Around 1998 I formed another band for playing covers and this proved quite successful called Xtatic and this has been working really well around the UK and abroad for private parties. It still is a strong feature on the London scene (www.xtatic.co.uk). it's a great collective of the best musicians and singers in London. one of the highlights was in 2011 when we played in Trafalgar Square for the Royal Wedding. (Click here to view)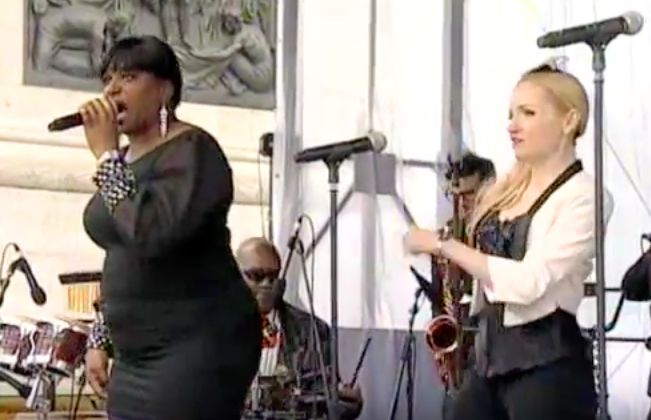 However my writing has continued and I started my own studio around 2003. Since then I have developed my skills as an engineer producer.
I also met the Singer Songwriter Vanessa Haynes (now with Incognito) and together we wrote tracks for her debut CD that was released in 2006 on my new label Change of Weather Records. We worked on that project with Jeff Young (Keyboard player with Jackson Browne, Steely Dan) and Richard Bailey on drums (Jeff Beck, Steve Winwood), and guitarist Dave Ital, we recorded at Eastcote Studios, in Notting Hill Gate.
When I started recording the new Album, Wax is Melting at the beginning of 2010 I knew how the music should go since we had been playing it regularly. But on this recording I explored some other ideas about how instrumental improvised music should go, so I prefer to call this a World Album rather than a Jazz album, but its both!
The line up onthis new record is amazing: Rick Laughlin (piano), Rob Hughes (Sax, Flute) Vanessa Haynes (vocal on 3 tracks), Nigel Hitchcock (Alto Sax on 2 tracks) Richard Bailey (Drums on 4 tracks) Francesco Mendolia (Drums on 5 tracks) Guest solos from Martin Shaw (Flugel) and Trevor Mires (Trombone), and a series of great guitarists: Chris Standring, Julian Burdock(24 Pesos), Carl Orr (Billy Cobham) Tim Cansfield (Seal), and percussion from Roberto Pla, Jeff Scantlebuy, Satin Singh.
I wrote, arranged, recorded, produced and mixed the whole project, so its been quite a journey!I also have released a retrospective CD of mainly live recordings called IN THE DISTANCE
in 2014 & 2015 I Toured with the BOB MALONE BAND in the UK, doing a series of great Blues and New orleans R&B repertoire.
I have diversified into Recording Live gigs, Front of House Sound Engineering, and Tour Management.
The music groups i put together are equally suitable for backing visiting artists.
Listen to a live recording HERE
Recently the artists I have been working with are Zeeteah Massiah, (As MD and Bassist), Vanessa Haynes (As Arranger), Janine Johnson, Alleyns School (Dulwich), Hot Orange Big Band, Nigel Waddington (recorded bass his new Album), 606 Club, Celeste Caramanna (recorded her live concerts), Urban voices Choir (As Sound engineer), Tony O'Malley, Blues Festivals with Harmonica Player Giles Robson,
Its now 2019, and I am preparing for a new album by the end of the year, - a new phase of creativity with new band, my songs and my bass. Hope you can join us on our concerts.